Trip to Cancun Mexico
11-18 December 2004
Last Edited - 08/25/2018 12:01 PM -0400
Hits -
| | |
| --- | --- |
| Flag of Mexico | Chichen Itza |
Observations about Ambiance Villas
Observations about Cancun
Photos
Videos
Observations about Ambiance Villas
Ambiance Villas - Booked through Expedia (Funjet). At KM 8.5. Next to the Presidente InterContinental Resort and across the street from a grocery store, pharmacy and Laundromat. Two bus stops right out front. I had a nice air conditioned suite with full kitchen, free safe, king bed, living room and semi-beach-view veranda for a very reasonable price. There is construction next door, but it didn't bother me. The best beach in Cancun. Quiet. Well kept by a large staff of people. About a 10 minute walk to the entertainment / convention area. At checkout there was no surprise bill and no overcharges. Great!

The 20" TV in the living room had RCA audio and video inputs, so the TV became my audio amplifier for my MP3 player (No VCR and no DVD player).

Internet - My notebook computer got 26400 baud from the local BudgetDialup.com number. US 5 cents per minute and US 55 cents per local call. There is a coin operated internet access machine in the Ambiance lobby, which I saw being used, but I never used it. I remember seeing internet cafes in town.

Ambiance Villas - My room had a bad smell for the first two days, but then Cancun often smells like sewer gas. One morning I woke to find a dead 2 inch cockroach in the kitchen sink. I guess that's what the garbage disposal is for. The air conditioning was set to 63 degrees F when I arrived but I managed to coerce the thermostat warmer.
Buy the Perry and Laura McFarlin Cancun Map (see below) before you go. It is a great map.

Want great deals in Cancun, and to see what the locals eat and buy? Go to the downtown Wal-Mart.

Buying some Tequila to take home? Look at the extensive displays in the hotel zone shops, and then buy at Wal-Mart for about 1/2 the price.

The week of Dec 11 was very quiet in the hotel zone. It almost seemed an economic depression. Few tourists. Empty restaurants.

The whole Cancun area seems very safe.

The price of everything in the hotel zone is 2X to 10X, compared to downtown.

Have you met tourista? You will. You will get sick in Cancun. Bring Imodium and expect 2 to 3 days in your hotel room.

Cancun seems to cater to the inactive passive American, not the active adventure traveler. Expect the beach, partying, snorkeling, jet skiing and bus excursions to ruins, but don't expect walking or hiking opportunities. If you like to hike and see wildlife, go somewhere else. However, there are plenty of places to jog in the morning when it's somewhat cooler.

Cancun can be very windy. Otherwise, the temperature was always about 80-85 degrees F, and partly cloudy.

An Irish bar (Pat O'Briens) in Cancun only serves Mexican beer and Mexican food. Want a Guinness? Stay home, or go to Ireland.

The local bus is fast and cheap (US60 cents) but don't expect to find a bus map. I never saw one.
---
Stop back later - More pictures will be posted.
Photos and Panoramas
Canon S300 2E6 pixel camera. Panorama Factory Software.
Panoramas are stitched images (limited to 1/2 mega pixel or 400 vertical pixels)
Most of these images are thumbnails.
Click on an image to see it full size
Ambiance Villas

Ambiance Villas - Aerial View of the area
www.ambiancevillascancun.com

Cancun - Photo of a billboard advertisement.
Great aerial view. An artists rendering of the completed
"Olas Residence". Next to the "Ambiance Villas".
Olas Residense is under construction as of Dec 2004.


Ambiance Villas - 1 bedroom suite -
Kitchen - Dining - Living Room


Ambiance Villas -
Bathroom view from the bedroom at the first vanity.
The second vanity is on the other side of the sliding mirror door.


Ambiance Villa Bedroom - Handcrafted decoration from towels and flowers of the property


Ambiance Villa Bathroom - Handcrafted decoration from towels


Ambiance Villas - Massages are available at the beach.
Chichen Itza

Chichen Itza - Ball Court as seen from the Pyramid


Chichen Itza - Our guide with woman in festival dress.
"Our Lady of Guadalupe" day, Dec 12, 2004
Cancun
| | |
| --- | --- |
| Cancun Airport Arrival - Funjet Operated by Ryan International | |
| The Plantation House Restaurant - Boulevard Kukulcán Km 10.5 Hotel Zone | |
| Corona Extra T Shirt | |
---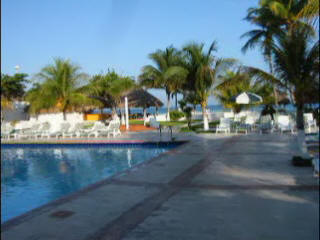 Ambiance Villas - Silent walk through the lobby, 1600 KB