www.ChuckLohr.com

This is a non-commercial web site. Advertising is not accepted. I am not being paid for any mention or promotion.
To translate this page from English select a language
808 #9 Camera
The #9 is one version of the 808 car keys micro camera.
It is sold by Meritline and DealExtreme and the processor seems to be a Sunplus variant.
The processor is labeled Generalplus or is potted and unlabeled.


131031 - #9 Variant with Cyan Date Time Stamp
Neil reported this 808 #9 with Cyan date time stamp.

Same as the yellow #9, but the different camera module seems to show vignetting. The focal length of the lens seems somewhat longer than the #3 & the #23 I presently have. I have not managed to set up shots with exact alignment or anything like that. That is just my impression. I have not had a Yellow #9 and the Cyan variant at the same time to test in low-light. The Cyan #9 is a smeary mess but a #3 copes quite well on a dull autumn day or inside a store. In summer the Cyan #9 handles a sunny day without the crushed black & clipped white which affects the #23, MD80 and also that mystery camera I sent details of. That issue is one I wish I could compensate for.

130703 - 808 #9 report
Athanassios in sunny Greece sent me this information about a defective 808 #9 he bought October 2012. The video and images have strange colors, probably caused by a broken connection in the internal data path. He could not get a refund from the seller.
The PWB is labeled JH 1203E 12/04/23. Video 720x480, 30.000FPS. Audio 352.8 Kbps. Photos 1280x1024.

808 #9 video frame 720x480 (rescaled)

808 #9 photo frame 1280x1024 (rescaled)
130718 -
#9 Report
Report from Neil in the UK.

I was going to write and volunteer the #9 as a candidate for the worst keychain camera based on the poor video quality. I have bought a keychain camera from two different places and both turned out to be #9s on arrival. One has the usual yellow time-stamp & the video was as poor as I have come to expect. In sunny conditions the contrast goes mad, which doesn't help the general lack of sharpness.

...

The other one has the usual two crystals, encapsulated CPU, No version mark on the PCB. "12/08/29-E" & "1315" on the PCB and the only marking on the camera module ribbon cable was "80". It had a Hynix SDRAM chip. The PCB is laid out like the images in the report dated 130501. The camera also displays the time-stamp in cyan and the picture quality/and exposure is much better than the first camera.

When I tested the two #9's for video quality it was done with the same micro SD card. I took a shot with one camera and then the other as quickly as I could switch the card to the other camera.

My comment on the cyan stamp #9 still stands. The JH10C camera module of a yellow stamp #9 seems to be poor. I haven't managed to focus one to be sharp yet & believe me I have tried on two different examples
130501 - #9 12/08/29-E 02 13
Karol in Poland sent me these internal photos of his 808 #9. The date time stamp color is cyan. The missing frame rate is 28%.

Photos are 1280x1024.
AVI file is about 45MB per minute. "Generalplus AviPackerV3 20110520" and "GPEncoder" is embedded in the file.
Video is MJPEG, 30.000 FPS, 720x480.
Audio is PCM 352.8 Kbps, 22050 Hz, 16 bit.
Date time stamp on video and photos is lower right, cyan color, on transparent, format 04/30/2013 19:11:50


130331 - #9 report
Stefano in Italy has this #9 report:
I recently bought a keychain camera, 5 Euros on Aliexpress, China vendor. Unfortunately is #9.

But I have a good new. My camera is able to record videos or take still images while charging from a phone charger or even from a computer USB port.



Steps to take:


1) Shut down the camera
2) Press and hold shutter button
3) While holding shutter button, plug the camera to the charger (USB port or charger). (PC must be ON, phone charger already connected to wall plug)
4) Led will light ON. It will be steady light (mine's yellow/orange)
5) Release shutter button. the led must be steady at this time
6) Now you can record a video or take a still image as usual
7) If you press the shutdown button, you have to repeate the procedure.

This way I've been able to record 4 hours video, splitted in 30 minutes chunks.

My keychain info:

1BF3 0C52 - Mass Storage - Generalplus Technology Inc.
1B3F 2002 - Webcam (not usable on Linux with uvcvideo driver)

FFmpeg info about a video:
Video: mjpeg, yuvj422p, 720x480, 30 tbr, 30 tbn, 30 tbc
Audio: pcm_s16le, 22050 Hz, mono, s16, 352 kb/s

Photo: 1280x1024, aspect ratio distorted.
Filenames: SUNPXXXX.avi, PICTXXXX.jpg
tag.txt is written on formatted card: 2012-05-01 23:59:59

===========

Stefano wrote some Linux scripts. Other people could find them helpful.
They need GNU/Linux OS, ffmpeg and md5sum.

The first script acts like a player, or like avidemux: it plays/decodes the video and save the frames to a directory.
Then it checks for copied frames and calculates the rate of missing frames. This script is the slower.

The second script extracts the real frames from the video and calculates the expected number of frames.
Then you'll get the missing frames ratio ---> expected_frames/real_ frames.

He will reply to users questions about the scripts at "rospolosco@tiscali.it".
Scripts homepage: http://www.gbxgol.altervista.org/808-9-scripts.html
120825 -

#9 but 640x480. JH_1203E 12/04/23

Dávid from

Austria

received a #9 from HobbyKing with 640x480 video and 352.8 Kbps audio.
The internal label says: "JH_1203E 12/04/23".
The missing frame rate is about 18%
The AVI file data rate is about 78MB per minute.

120410 -

#9 with 352.8 Kbps audio. JH_1203E 13/12/11

Oscar from Spain ordered an 808 from a UK eBay seller. He received a #9 but the audio is 352.8 Kbps (22050, 16 bit like the 808 #3). #9 cameras have been 128 Kbps. So it seems the developer might be trying to make a #9 impersonate an #3 camera, maybe with different firmware. The missing frame rate measures 23%, similar to other #9 cameras.


#9 with 352.8Kbps audio battery side

#9 with 352.8Kbps audio button side
120219 -
Setting the date time stamp
LM wrote me with these instructions about setting the date time.

Simply enter the TAG.txt file on flash card and edit the numbers on it with the current date and time. Do not modify the format. Do not perform any other modifications but only rewrite de current time and date. :) That's all! Disconnect the USB cable and make a new record and verify! :)
120121 - #9 JH_1203E 13/12/11
Jo in Germany sent me this information about an 808 labeled JH_1203E. It seems to be a #9 with newer circuit board and fewer parts (cost reduced). Received from a German car tuning seller on eBay, €11.

Video: 720x480, aspect ratio correct, 30.000 FPS. Missing frame rate about 22%. About 48 MB per minute.
Audio: PCM, 16 bit, 8000 Hz, 128 kbps.
Photo: 1280x1024, aspect ratio distorted.
Filenames: SUNPXXXX.avi, PICTXXXX.jpg
TAG.TXT is written on formatted card: 2012-05-01 23:59:59
The NEC chip is a 16M Bit (2M Byte) Synchronous DRAM.
The processor is an encapsulated chip-on-board..


1280x1024 #9 photo

720x480 #9 video frame
120105 -
#9 Comments
Pavel in Czech Republic has a 808 #9 and a Yarvik tablet. When the #9 flash card with video files in used in the Yarvik, the Yarvik writes files to the flash card like LOST.DIR and android_secure. Also the default date of his #9 camera is "2011-05-01 23:59:59".
111223 - #9 Hardware IDs
James reports these #9 hardware IDs:
1BF3 0C52 - Mass Storage
1B3F 2002 -Webcam (No Drivers Needed) GENERALPLUS UVCDEVICE

111102C9
111102 - #9 Report
Shaun from Scotland sent me this #9 report.

I have bought an 808 camera and after taking it apart have found that it is a #9. I have looked at the videos and images that it records. The videos are missing the bottom part and are scaled up to 720 by 480 with no aspect distortion. The images make full use of the image sensor and are scaled up to 1280 by 1024 with distortion, but when re sized to 640 by 480, the distortion is gone. It works with any computer as a generic webcam. I needed no drivers for it. On the webcam video feed it has "DV V2. 18B" imposed onto the video in yellow font in the bottom left corner.
110901 -

#9 JH_1103E

Sindre in Norway received an 808 #9 from DealExtreme and sent me photos and video.

The camera has the characteristics of the 808 #9 with a newer circuit board (JH_1103E). The date time stamp is a new color, cyan. Other #9 cameras have a yellow or white date time stamp.


808 #9 battery side JH_1103E

808 #9 button side JH_1103E
110818C9Internal
110618 #9 Internal Photos. JH_11030
TG sent me these internal photos of his #9.


#9 battery side

#9 button side
110522C9Internal
110522 - #9 Internal Photo
Sven from Germany sent me a sample video from his 808 and an internal photo. The video seems to be a #9, but the internal parts layout is different.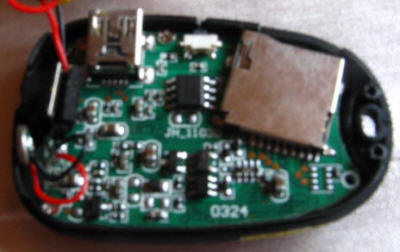 #9 battery side
110418 - Another #9
www.gadgets2u.net provided me a sample AVI and photos. The missing frame rate of this video sample is about 16% which is better than other #9 cameras. #9 cameras have either white or yellow time stamp in the lower right. The yellow font is a different font than used in the #3.

#9 Sample Video Frame Grab. Click for full size.


#9 battery side

#9 button side
110318 - Another #9 variant
110318 - Martin received a slightly different #9 camera. Differences include a Chip-On-Board (potted) processor, the photo JPG is 1280x1024 (not 1024x768).

The missing frame rate is bad at about 28%. That is about 3 times an acceptable %.

It is very interesting that potted CPU (COB) is being used. The parts count is maybe much less than other 808 cameras.

The JPG image taken by the camera looks "mottled". My guess is that the camera module is producing a lot of image noise, and the MJPEG compressor is filtering that noise, resulting in the mottled appearance in both the JPG and AVI.

The hardware ID (1b3f 0c52) matches the #9 mass storage device.


808 #9 with potted (Chip On Board) processor. Battery side.

808 #9 button side.
2010 Oct 12 - #9 Processor, Generalplus, Sunplus
101012 - Jared produced this information about Sunplus and Generalplus.

I looked up the Generalplus and Sunplus companies. They are in the same location, and have the same CEO, leading me to believe they are the same company using 2 names, both "owned" by " BEIJING SUNNORTH TECHNOLOGY CO., LTD":



CEO Info:




Sunplus: Chairman and CEO Mr. Chou-Chye Huang,

http://mcu.sunplusmcu.com/




Generalplus: Chairman & President -- Mr. Chou-Chye Huang,

http://www.generalplus.com/about/0102.htm





Address:




Sunplus: Science Park, Hsin Chu, Taiwan Science Park, Hsin Chu, Taiwan




Genplus: 3F, No.8, Dusing Rd., Hsinchu Science Park, Hsinchu City 30078, Taiwan, R.O.C.



The processor is made by Generalplus. It is "GPL32080A-703A-QL091". It is part of the family of processors called:
GPL32XXX 2-bit ARM7 TV Game / Handheld Game / ELA LCD Controller.

From the product guide the GPL3XXX has 96 MHz clock, hardware MJPEG codec, SD card interface, USB interface, and other features.

This site seems to imply a relationship between Sunplus and Generalplus.
2010 Oct 08 - #9 Internal Photos
Jared made these internal photos of the #9. The processor is a Generalplus GPL 32080A. The 16 pin chip on the battery side is not found in any other 808 camera.


#9, Battery side
#9, Button Side, Processor is Generalplus GPL 32080A
#9, Battery side, the 16 pin chip is something new.
2010 Sep 28 - #9 - An 808

#5 Syntek Variant

Generalplus from Meritline
101006 - Jared requested a webcam driver from TGF for his Meritline 808 camera but they sent an SPCA_1528 driver that does not work.
100930 - Jared did some research and noted that this camera could not be put into webcam mode in the usual way. Jared discovered that the hardware ID of the mass storage device is VID 1B3F PID 0C52. This VID does not match any existing 808 camera. Existing 808 webcam drivers will not work with it because the hardware ID VID does not match existing 808 webcam drivers.

100928 - Raj Sent me this detailed info about this #5 variant.

Just wanted to let you know that I received what may be a new variant of #5 from Meritline
They have it advertised as a #3 camera but the specs don't match.
The camera-mode pictures are 1024x768 with a resolution of 96dpi (horizontal and vertical) and a bit depth of 24.
The videos are 720x480, 30.000fps, bit depth of 8, and the audio is 128kbs, sampling of 8khz, and bit depth of 16.


Also, the time/date stamp is placed in the lower right hand corner and is white.
A file named "time.txt" is automatically written to a blank card when inserted with the format of
"YYYY-MM-DD HH:MM:SS" with a default value of "2010-10-01 23:59:59".
If deleted, the file reappears on the next power cycle. If modified to the correct date and time, and power cycled, it stamps the correct date and
time to the pictures.
However, if the device is power cycled again, it reverts back to the default date of "2010-10-01 23:59:59" in the "time.txt" but still displays the accurate time and date in the pictures. Pretty bizarre.
The manufacturer property shows up as "GENPLUS" and device description property shows up as "USB-MSDC DISK A".

100926 - Christian received a camera from Meritline described as a #3.

It is not a #3. The video quality and the missing frame rate is visibly worse than a #3 camera. The audio is worse than a #3.

It is a new variation similar to the #5 camera.
It is

probably

a

Syntek

Generplus processor.
It is mostly like the #5 because of the 720x480 undistorted aspect ratio.
It is unlike the #5 because it has1280x768 undistorted photos and 16 bit audio.

VIDEO
720x480 MJPEG, 30.0000 FPS and is not aspect ratio distorted.
The video date time stamp is white, lower right.
Missing video frame rate is bad (25%). This could be due to the camera or a slow flash card.
The video sample is 4,272,824 bytes, 4.8 seconds, 53.4E6 (53 megabytes) per minute, typical of a Syntek processor.
AUDIO
8000 Hz, 16 bit, 126Kbps.
PICTURES
1024x768 JPG and are not aspect ratio distorted.